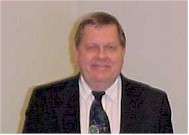 Joseph N. Pelton

Research Professor,
Department of Electrical and Computer Engineering



Mailing Address
    Department of Electrical and Computer Engineering
    The George Washington University
    Washington D.C. 20052
Phone/Email
 Voice:   (202) 994-5507
 Fax:     (202) 994-5505
 Email:   jpelton@gwu.edu
 Office:  2033 K St, NW - Suite 340E

Biography
Dr. Joseph N. Pelton is a Research Professor with the Institute for Applied Space Research at the George Washington University. He also holds concurrent appointments as a Member of the College of Teachers at the International Space University of Strasbourg, France and as Professor of Telecommunications at the University of Colorado at Boulder.
Currently, he heads several international research projects in space communications and frequency allocations at the Institute for Applied Space Research. During 1996/7, he served as Vice President of Academic Programs and Dean of the experimental global virtual university known as the International Space University. This project, with backing from 400 organizations around the world and most of the world's space agencies, has a central campus in Strasbourg, France, along with 24 affiliate campuses. The ISU is also represented on the Space Agency Forum, a group representing NASA, ESA and 35 other space agencies from around the world, and in this role has been requested to develop a model space education program for global implementation.
Dr. Pelton is the author of 16 books in the field of satellites, telecommunications and the long range impact of technology on society since 1975. These include the four book series: Future Talk, Future View, Cyberspace Chronicles and Global Talk, the latter of which he was nominated for a Pulitzer Prize. He is also author of over three hundred journal articles, encyclopedia entries and Congressional testimonies.
Dr. Pelton currently chairs a NASA and the National Science Foundation Panel of Experts that is conducting a global review of satellite telecommunications. This report, the follow on to a similar study panel he co-chaired in 1992, will be presented to NASA, the NSF, other U.S. Government Agencies and Congress in early 1998. He is also serving as a consultant to the French Space Agency and is an official member of the Japanese Government's high level external evaluation committee for NASDA, the Japanese Space Agency.
From 1969 to 1989, Dr. Pelton held a number of management positions with COMSAT and the INTELSAT global satellite organization. These included Executive Assistant to the Director General of INTELSAT and Director of Strategic Policy for INTELSAT. Dr. Pelton is a frequent keynote speaker and has delivered major addresses in over 40 countries and spoken at the UN, UNESCO, ITU, the U.S. Congress, Harvard University, MIT, the AAAS, and at many other distinguished forums. He is a full member of the International Academy of Astronautics, a member of the Who's Who International, the World Future Society, and the AIAA, as well as co-editor of the Journal of Space Communications
Dr. Pelton holds degrees from the University of Tulsa (B.S. 1965), New York University, (M.A. 1967) and Georgetown University (Ph.D. 1971).

Last updated: October 12, 1999